Le Fabuleux Destin d'Amélie Poulain (The Fabulous Destiny of Amélie Poulain), also known simply as Amélie, is a 2001 French romantic comedy film directed by Jean-Pierre Jeunet and starring Audrey Tautou. Written by Guillaume Laurant (who also provided the narration) and Jeunet, the film is a whimsical and somewhat idealised depiction of contemporary Parisian life, set in Montmatre. .
The film was released in France, Belgium, and Switzerland in April 2001, with subsequent screenings at various film festivals followed by releases around the world.
Amélie won best film at the European Film Awards; it won four César Awards (including Best Film and Best Director), two BAFTA Awards (including Best Original Screenplay), and was nominated for five Academy Awards. It is the highest-ranking French film in the IMDb's Top 250. (See below for other awards and recognition.)
Spoiler warning: The following contains plot details about
the entire movie.
Amélie is the story of Amélie Poulain, a girl who grows up isolated from other children by Raphaël, her taciturn doctor father, due to his mistaken belief that she suffers from a heart condition (a mistake in fact resulting from the increase in her heartbeat caused by the rare thrill of physical contact by her father, who only ever touched her during medical check-ups). Her mother (who is just as neurotic as her father) dies when Amélie is young, victim of a freak accident involving a suicidal Québécoise who threw herself off the top of Notre Dame Cathedral and landed on Amélie's mother, causing her father to withdraw even further (and devote his life to building a rather eccentric shrine to his late wife). Left to amuse herself, Amélie develops an unusually active imagination.
When she grows up, Amélie becomes a waitress in a small Montmartre café, The Two Windmills, run by a former circus performer. The café is staffed and frequented by a gang of eccentrics. By age 22, life for Amélie is simple; having spurned romantic relationships following a few failed efforts, she has devoted herself to simple pleasures, such as cracking crème brûlée with a teaspoon, going for walks in the Paris sunshine, skipping stones across St. Martin's Canal, trying to guess how many people in Paris are having an orgasm at one moment ("Fifteen!", as she tells the camera), and letting her imagination roam free.
Her life changes on the same day that Princess Diana dies. Following a series of circumstances resulting from her shock at the news, behind a loose bathroom tile she finds an old metal box of childhood memorabilia hidden by a boy who lived in her apartment decades past. Fascinated by the find, she resolves to track down the now grown-up man who put it there and return it to him, making a deal with herself in the process; if she finds him and it makes him glad, she will devote her life to goodness. If not, too bad.
She meets her reclusive neighbour Raymond Dufayel, a painter who continually repaints "Luncheon of the Boating Party" (Le Déjeuner des canotiers) by Renoir. He is known as 'the Glass Man' because of his brittle bone condition. With his help, she tracks the former occupant down, and places the box in a phone booth, ringing the number as he passes to lure him there. Upon opening the box, the man has an epiphany as long-forgotten childhood memories come flooding back. She trails him to a nearby bar and observes him secretly. On seeing the positive effect she had on him, she resolves from that moment on to do good in the life of other people. This results in Amélie becoming a something of a secret matchmaker and guardian angel, as she persuades her father to follow his dream of touring the world (with help from his garden gnome and an air-hostess friend), her co-workers and friends (two of whom she sets up), the concierge of her building, and Lucien, the boy who works for the bullying owner of the neighbourhood vegetable stand (whom Amélie delights in taking vengeance upon).
But while she is looking after others, no one is looking after Amélie. In helping other people achieve happiness, she is forced to examine her own lonely life - made ever more apparent and painful by her relationship with Nino Quincampoix, a quirky young man who collects the discarded photographs of strangers from passport photo booths, with whom she has fallen in love. Although she intrigues him through her various roundabout methods of attraction (including something like a treasure hunt for one of his forgotten photo albums), she is painfully shy and incapable of actually approaching him. It will take Raymond's friendship to teach her to pursue her own happiness whilst still ensuring that of her friends and neighbours.
---

Spoilers end here.

---
Production
Edit
In his commentary on the DVD edition, Jeunet explains that he originally wrote the role of Amélie for the British actress Emily Watson; in the original draft, Amélie's father was an Englishman living in London. However, Watson's French was poor, and when she became unavailable to shoot the film, owing to a conflict with the filming of Gosford Park, Jeunet rewrote the screenplay for a French actress. Audrey Tautou was the first actress he auditioned.
The filmmakers made use of computer-generated imagery and a digital intermediate.[2]
The studio scenes were filmed in the Coloneum Studio in Cologne, Germany).
Reception and criticism
Edit
Racism accusation
Edit
The film was a critical and commercial success, but it was attacked by critics such as Serge Kaganski of les Inrockuptibles for its depiction of a largely unrealistic and picturesque vision of contemporary French society, a postcard universe of a bygone France with few people from ethnic minorities — some kind of latent lepénisme.[3] Paris is an ethnically diverse city, and there is next to Montmartre an area (Barbès-Rochechouart) that includes many black residents, few of whom are visible in the film. If the director was trying to create an idyllic vision of a perfect Paris, the critics argued, he seemed to think that it was necessary to remove nearly all black people from the scene in order to do so.
Others, such as David Martin-Castelnau and Guillaume Bigot, contended that such criticism was unwarranted and was rather the sign of a sick contempt of some of the "élite" for the common people represented in the movie.Jamel Debbouze, who plays Lucien, is of North African origin and that his story with his boss Colignon is one of the expressions of the anti-xenophobic orientation of his movie.
Jean-Pierre Jeunet responded that
Cannes rejection
Edit
Cannes Film Festival selector Gilles Jacob described Amélie as "uninteresting", and therefore it was not screened at the festival, although the version he viewed was an early cut without music. The absence of Amélie at the festival caused something of a controversy because of the warm welcome by the French media and audience in contrast with the reaction of the selector.[4]
The film was a critical and box office success, gaining wide play internationally as well. It was nominated for five Academy Awards:
In 2001 it won several awards at the European Film Awards, including the Best Film award.
It also won the People's Choice award at the Toronto International Film Festival and the Crystal Globe Award at the Karlovy Vary International Film Festival.
In 2002, in France, it won the César Award for:
The film was selected by The New York Times as one of "The Best 1,000 Movies Ever Made."[5]
It has a prominent place on IMDB's list of top 250 films hovering around the positions of 26-31.
Artwork featured
Edit
Amélie's visions of animal shapes in the clouds are based on images from the best-selling children's book La tête dans les nuages ("The Head in the Clouds") by Marc Solal and François David.[6] One of these stills became part of an internet hoax.[7]
The film features the artwork of Michael Sowa, whose paintings adorn the walls in Amélie's bedroom, at one point engaging in a surreal conversation about Amélie's love life.
Film clips used
Edit
The film featured film or video clips from the following:
Translation differences
Edit
In the English subtitled version, the concierge, Madeleine Wallace, is renamed Madeleine Wells in order to maintain a joke in the screenplay: in the original French, she mentions that she is destined to cry because of her surname Wallace (referring to the Wallace fountains of Paris). The English version keeps the joke by comparing Wells to water wells, however whenever it is broadcast on British TV, it is changed back to "Wallace".
In the Region 1 English subtitled DVD, when Amélie orders Nino to look at 'page 51' of his scrapbook, the subtitle erroneously reads 'Page St.', apparently due to the subtitler misreading his or her notes.
Featured Video
Edit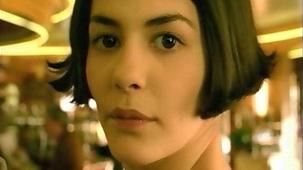 References
Edit
↑ 1.0 1.1 1.2 Amélie at the Internet Movie Database
↑ http://www.bcvideo.com/fmom20.html (entire 56-second film is downloadable)
External links
Edit