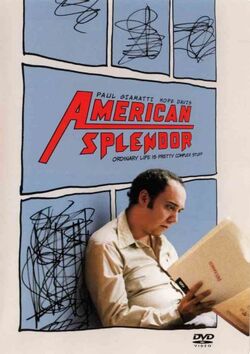 Ordinary life is pretty complex stuff
Directed By
Shari Springer Berman
Produced By
Ted Hope
Christine Kunewa Walker
Julia King
Declan Baldwin
Written By
Robert Pulcini
Cast
Paul Giamatti
Hope Davis
Judah Friedlander
Cinematography
Terry Stacey
Distributed By
Fine Line Features
Release Date
August 15, 2003
American Splendor is a 2003 American biographical comedy-drama film about Harvey Pekar, the author of the American Splendor comic book series.
Paul Giamatti as Harvey Pekar
Hope Davis as Joyce Brabner
Judah Friedlander as Toby Radloff
James Urbaniak as Robert Crumb
Harvey Pekar as himself
Joyce Brabner as herself
Toby Radloff as himself
Josh Hutcherson as Robin
Gregory Budgett, an artist for American Splendor Magazine walk on as The Extra, who asked Harvey Pekar for his autograph at the book signing scene (in a leather jacket)
Eytan Mirsky as The Guitarist
It was Josh Hutcherson's first film
Ad blocker interference detected!
Wikia is a free-to-use site that makes money from advertising. We have a modified experience for viewers using ad blockers

Wikia is not accessible if you've made further modifications. Remove the custom ad blocker rule(s) and the page will load as expected.