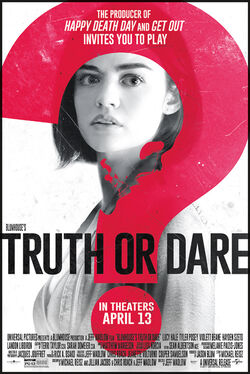 The Produer of
Happy Death Day
and
Get Out
dares you to play.
Screenplay By
Michael Reisz
Jillian Jacobs
Chris Roach
Jeff Wadlow
Cinematography
Jacques Jouffret
Music By
Matthew Margeson
Release Date
April 13, 2018
Rating


Blumhouse's Truth or Dare, commonly referred to as simply Truth or Dare, is an American horror film directed by Jeff Wadlow. The cast of the film consists of Lucy Hale, Tyler Posey, Violett Beane, Nolan Gerard Funk, Hayden Szeto, Sophia Ali, Sam Lerner, and Landon Liboiron. It was released on April 13, 2018.
To be added
Critic ratings
Edit
Rotten Tomatoes
Edit
On Rotten Tomatoes, the film is scored 15% with 99 critic reviews and an average rating of 3.8/10.
Metacritic
Edit
On Metacritic, Blumhouse's Truth or Dare is scored 37 out of 100 with 27 critic reviews. Overall, the film has "generally unfavorable reviews".