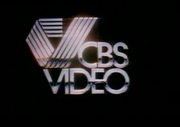 In 1979,
CBS Video Enterprises
formed a joint venture with
MGM
, MGM/CBS Home Video licensed the film library of MGM for release on home videocassette, following the early leads of
20th Century Fox
's Magnetic Video division and Columbia Pictures Home Entertainment.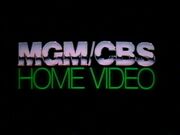 In addition to the MGM film library, the company released output from CBS News, CBS Records CBS television network, CBS Theatrical Films, and the motion picture division of Lorimar.
By 1981, MGM/CBS had expanded from VHS and Betamax to RCA's CED system as well.
In 1982, CBS withdrew from the MGM joint venture. The MGM/CBS company reorganized into MGM/UA Home Video. A short time later, CBS purchased a stake in 20th Century Fox's home video operation, and formed CBS/FOX Video. The new company reissued many of CBS' properties issued under the MGM/CBS label, in addition to films under the 20th Century Fox banner. Two speciality labels, Key Video, and Playhouse Video, were also created.
The CBS/FOX joint venture was reorganized in 1990, with Key Video and Playhouse Video ceasing operations, and Fox Video was created to release the mainstream output of 20th Century Fox. CBS continued to issue their product and programming under the Fox Video label until 1998, and utilized the CBS/FOX label for BBC Video programs until 1998.
In 1998, CBS/FOX ceased existence as a company, shutting the Fox partnership down, mainly because of CBS' merger talks with Viacom. The CBS/Viacom merger was completed in 1999.
Today, CBS Video exists as a speciality label division of Paramount Home Entertainment. The company releases CBS-owned programs to Paramount Home Entertainment, despite the fact that CBS and Viacom split at the end of 2005.
Ad blocker interference detected!
Wikia is a free-to-use site that makes money from advertising. We have a modified experience for viewers using ad blockers

Wikia is not accessible if you've made further modifications. Remove the custom ad blocker rule(s) and the page will load as expected.