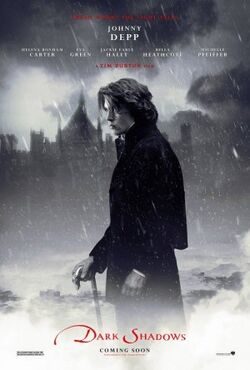 Tread Where the Light Falls
Written By
Dan Curtis (characters), Seth Grahame-Smith (screenplay)
Cast
Johnny Depp, Michelle Pfeiffer, Jonny Lee Miller, Eva Green, and Helena Bonham Carter
Distributed By
Warner Bros.
Release Date
May 11, 2012
Dark Shadows is a Tim Burton directed film based on the British television show from the 1960s of the same name.
In 1752, the Collins family sails from Liverpool, England to North America. The son, Barnabas, grows up to be a wealthy playboy in Collinsport, Maine and is the master of Collinwood Manor. He breaks the heart of a witch, Angelique Bouchard, who turns him into a vampire and buries him alive. In 1972, Barnabas is accidentally freed from his coffin and returns to find his once-magnificent manor in ruin. It is occupied by dysfunctional Collins descendants and other residents, all of whom have secrets.[1]
Related Links
Edit
Cite error: <ref> tags exist, but no <references/> tag was found
Ad blocker interference detected!
Wikia is a free-to-use site that makes money from advertising. We have a modified experience for viewers using ad blockers

Wikia is not accessible if you've made further modifications. Remove the custom ad blocker rule(s) and the page will load as expected.