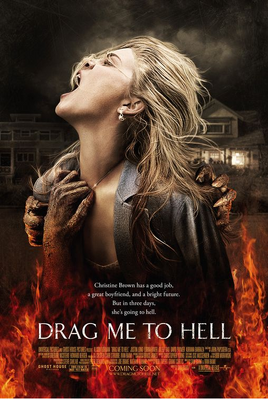 Drag Me to Hell
is a 2009 American horror film co-written and directed by Sam Raimi. The plot focuses on loan officer Christine Brown (played by Alison Lohman), who tries to impress her boss by refusing to extend a loan to a gypsy woman by the name of Mrs. Ganush (played by Lorna Raver). In retaliation, Ganush places a curse on Christine that, after three days of escalating torment, will drag her into the depths of Hell to burn for eternity.
Plot summary
Edit
Ad blocker interference detected!
Wikia is a free-to-use site that makes money from advertising. We have a modified experience for viewers using ad blockers

Wikia is not accessible if you've made further modifications. Remove the custom ad blocker rule(s) and the page will load as expected.