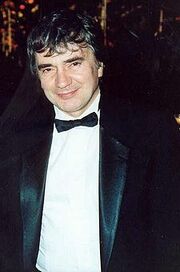 Dudley Moore nicknamed as 'Cuddly Duddly' and 'The Sex Thimble made his film debut in the film The Wrong Box with his comedy partner Peter Cook. They also appear in the cult 1967 film Bedazzled and Monte Carlo or Bust. His first breakthrough Hollywood role was in 10 in 1979. His most famous film part was as Arthur in Arthur in 1981 and its follow-up Arthur 2: On the Rocks (1988).
Other films he was in include Blame it on the Bellboy (1992), Alice's Adventures in Wonderland (1972) and Micki and Maude (1984).
Ad blocker interference detected!
Wikia is a free-to-use site that makes money from advertising. We have a modified experience for viewers using ad blockers

Wikia is not accessible if you've made further modifications. Remove the custom ad blocker rule(s) and the page will load as expected.