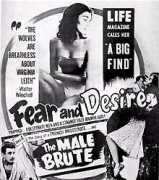 Fear and Desire
is a 1953 film directed, produced, and edited by
Stanley Kubrick
, who also served as the cinematographer. It is his first feature film and one of his least-seen ones. Despite not being a box office success, it received somewhat positive reviews upon release and continues to receive positive reviews today, even though Kubrick himself stated that it was his least favorite personal film and went out of his way to buy most prints of the film so other people wouldn't see it.
Four soldiers whose planes has crashed discover that they're six miles behind enemy lines. Aching to escape, they make a plan to travel over to an allied country by building a raft and traveling up a river. But when a woman discovers their presence, they learn that an enemy general is nearby.
Ad blocker interference detected!
Wikia is a free-to-use site that makes money from advertising. We have a modified experience for viewers using ad blockers

Wikia is not accessible if you've made further modifications. Remove the custom ad blocker rule(s) and the page will load as expected.