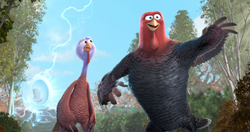 Hang on to your nuggets
Directed By
Jimmy Hayward
Produced By
Scott Mosier
Craig Mazin
John Strauss
David I. Stern
Written By
David I. Stern
John Strauss
and Craig Mazin
Cast
Woody Harrelson
Owen Wilson
Amy Poehler
Dan Fogler
Lesley Nicol
George Takei
Colm Meaney
Keith David
Eddie "Piolin" Sotelo
Studio
Relativity Media
Reel FX
Distributed By
Relativity Media
Release Date
November 1, 2013
Rating

Free Birds is an upcoming American 3D computer-animated comedy directed by Jimmy Hayward, and featuring the voices of Owen Wilson, Woody Harrelson, Amy Poehler, and George Takei.
In this hilarious, adventurous buddy comedy for audiences of all ages, directed by Jimmy Hayward (Horton Hears a Who!), two turkeys from opposite sides of the tracks must put aside their differences and team up to travel back in time to change the course of history - and get turkey off the Thanksgiving menu for good.
Woody Harrelson as Reggie
Owen Wilson as Jake
Amy Poehler as Jenny
Dan Fogler as
Lesley Nicol as
George Takei as
Colm Meaney as
Keith David as
Eddie "Piolin" Sotelo as
Josh Lawson as
Ad blocker interference detected!
Wikia is a free-to-use site that makes money from advertising. We have a modified experience for viewers using ad blockers

Wikia is not accessible if you've made further modifications. Remove the custom ad blocker rule(s) and the page will load as expected.