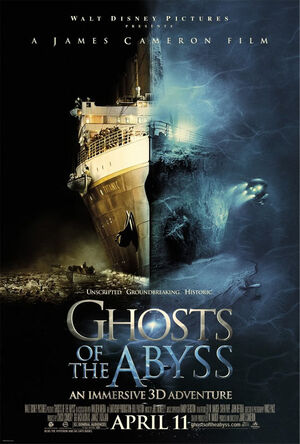 Ghosts of the Abyss is a 2003 documentary film released by Walt Disney Pictures and Walden Media. It was directed by Academy Award-winning filmmaker James Cameron after his 1997 Oscar-winning film Titanic. During August and September 2001, Cameron and a group of scientists staged an expedition to the wreck of the RMS Titanic, and dive in Russian deep-submersibles to obtain more detailed images than anyone has before. With the help of two small, purpose-built remotely operated vehicles, nicknamed"Jake" and "Elwood", the audience too can see inside the Titanic and with the help of CGI, audiences can view the ship's original appearance superimposed on the deep-dive images.
Also along for the ride Cameron invites friend and actor Bill Paxton who played Brock Lovett in the 1997 film. He narrates the event through his eyes. The film itself was premiered for IMAX 3D and was also nominated for a BFCA award for Best Documentary. The submersibles Mir 1 and Mir 2 carried the filming team on twelve dives.[2] The film is also known as Titanic 3D: Ghosts of the Abyss.[3][4]
Ad blocker interference detected!
Wikia is a free-to-use site that makes money from advertising. We have a modified experience for viewers using ad blockers

Wikia is not accessible if you've made further modifications. Remove the custom ad blocker rule(s) and the page will load as expected.