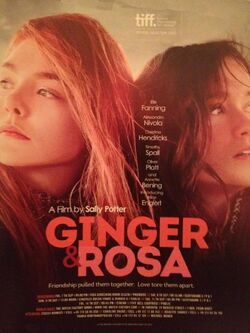 Friendship pulled them together. Love tore them apart.
Produced By
Andrew Litvin
Christopher Sheppard
Cast
Elle Fanning
Alice Englert
Christina Hendricks
Annette Benning
Oliver Platt
Studio
Adventure Pictures, BBC Films, BFI, Det Danske Filminstitut, Media House Capital, Miso Films
Release Date
February 1, 2013
Rating


Ginger and Rosa is a 2012 film directed by Sally Potter and distributed by A24. The film premiered at the Toronto International Film Festival on 7 September 2012, and is scheduled to be released on 19 October 2012 in the United Kingdom, then on 1 February, 2013 in the United States.
London,1962. Two teenage girls, Ginger and Rosa - are inseparable. They skip school together, talk about love, religion and politics and dream of lives bigger than their mothers' domesticity. But the growing threat of nuclear war casts a shadow over their lives. Ginger is drawn to poetry and protest, while Rosa shows Ginger how to smoke cigarettes, kiss boys and pray. Both rebel against their mothers: Rosa's single mum, Anoushka, and Ginger's frustrated painter mother, Natalie. Meanwhile, Ginger's pacifist father, Roland seems a romantic, bohemian figure to the girls. He encourages Ginger's 'Ban-the-Bomb' activism, while Rosa starts to take a very different interest in him. As Ginger's parents fight and fall apart, Ginger finds emotional sanctuary with a gay couple, both named Mark, and their American friend, the poet Bella. Finally, as the Cuban Missile Crisis escalates - and it seems the world itself may come to an end - the lifelong friendship of the two girls is shattered. Ginger clutches at one hope; if she can help save the world from extinction, perhaps she too will survive this moment of personal devastation.
Related Links
Edit