Produced By
Laurie Borg
David Faigenblum
Elizabeth Karlsen
Emanuel Michael
Stephen Woolley
Written By
David Nicholls (adaptation)
Cast
Helena Bonham Carter
Ralph Fiennes
Sally Hawkins
Robbie Coltrane
Distributed By
Main Street Films
Release Date
October 11, 2013 (US)
Great Expectations (2013) is an upcoming American drama directed by Mike Newell, adapted from the Charles Dickens novel by David Nicholls, and starring Helena Bonham Carter, Ralph Fiennes, Sally Hawkins, and Robbie Coltrane.
A humble orphan suddenly becomes a gentleman with the help of an unknown benefactor. [1]
Helena Bonham Carter -as- Miss Havisham
Ralph Fiennes -as- Magwitch
Sally Hawkins -as- Mrs. Joe
Robbie Coltrane -as- Mr. Jaggers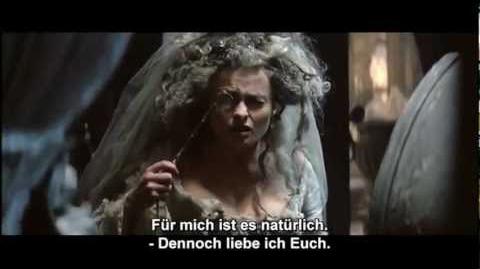 Related Links
Edit
References
Edit
Ad blocker interference detected!
Wikia is a free-to-use site that makes money from advertising. We have a modified experience for viewers using ad blockers

Wikia is not accessible if you've made further modifications. Remove the custom ad blocker rule(s) and the page will load as expected.