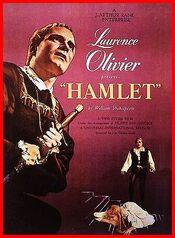 Hamlet is a 1948 British film adaptation of William Shakespeare's play Hamlet, adapted and directed by and starring Sir Laurence Olivier. Hamlet was Olivier's second film as director, and also the second of the three Shakespeare films that he directed (the 1936 As You Like It had starred Olivier, but had been directed by Paul Czinner). Hamlet is the only film of Olivier's directorial efforts to be filmed in black and white, and was the first British film to win the Academy Award for Best Picture. It is also the first sound film of the play in English.
Ad blocker interference detected!
Wikia is a free-to-use site that makes money from advertising. We have a modified experience for viewers using ad blockers

Wikia is not accessible if you've made further modifications. Remove the custom ad blocker rule(s) and the page will load as expected.