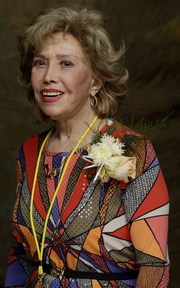 June Foray (September 18, 1917 – July 26, 2017) was an American voice actress who had worked for most of the studios which produced animated films since the 1940s. Her notable film work includes Cinderella and Mulan.
Foray was born in Springfield, Massachusetts, where her voice was first broadcast in a local radio drama when she was 12 years of age; by age of 15 she was doing regular radio voice work. Two years later she moved to Los Angeles, California, and soon became a popular voice actress on radio there, including on the national programs of Jimmy Durante and Danny Thomas. In the 1940s, she began film work as well, including a few appearances acting in live-action movies, but mostly doing voice overs for animated cartoons.
For Walt Disney, she played Lucifer the Cat in the feature film Cinderella; she did a variety of voices in Walter Lantz's Woody Woodpecker cartoons; for Warner Bros. Cartoons she was Granny, owner of Tweety and Sylvester (whom she has played, on and off, since 1943), and, memorably, a series of witches including Witch Hazel for Chuck Jones. She appeared on The Smurfs (as Jokey Smurf and Mother Nature), George of the Jungle, and How the Grinch Stole Christmas; she was the voice of the original "Chatty Cathy" doll (coincidently, she was the voice of the "Talking Tina" doll in The Twilight Zone episode, "The Living Doll"), and is a voice on the Disney attraction "Pirates of the Caribbean" as the wife of the man getting dunked ("Don't tell him, Carlos!").
Foray also has done extensive voice acting for Stan Freberg.
She also voiced Magica De Spell and Ma Beagle in the televised cartoon DuckTales. She even voiced Grammi Gummi on Disney's Adventures of the Gummi Bears.
She was the last surviving major classic cartoon voice artist. She remains active to this day, with roles in recent animated films, such as Mulan (as Grandmother Fa) and Looney Tunes: Back in Action.
Chuck Jones is reported to have said, "June Foray is not the female Mel Blanc. Mel Blanc was the male June Foray."
June Foray has recently become a contributor to ASIFA-Hollywood's animation archives|ASIFA-Hollywood's Animation Archive Project.
On July 26, 2017, Foray's friend, Dave Nimitz, reported that Foray had died earlier in the day at her home in Los Angeles at the age of 99.
References and external links
Edit