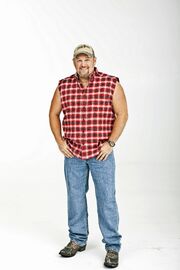 Daniel Whitney
(February 17, 1963 in Pawnee, Nebraska) is a Comedian/Actor known by his stage name Larry The Cable Guy. His first made his film debut on the
Blue Collar Comedy Tour: The Movie
in 2003 following the TV series.
In 2006 he voiced character Lightining McQueen in the movie Cars and starred as a health inspector in Larry the Cable Guy: Health Inspector.
Ad blocker interference detected!
Wikia is a free-to-use site that makes money from advertising. We have a modified experience for viewers using ad blockers

Wikia is not accessible if you've made further modifications. Remove the custom ad blocker rule(s) and the page will load as expected.