Life of Pi
Comment

1
2,946pages on
this wiki
Written By
David Magee, based on the book by Yann Martel
Cast
Suraj Sharma, Shravanthi Sainath
Produced By
Ang Lee, Gil Netter, David Womark
Release Date
Dec 21, 2012
Life of Pi is 3D fantasy adventure film directed by Ang Lee and written by David Magee, based on the 2001 novel of the same name written by author Yann Martel. The film is set for release on December 21, 2012.
The story concerns an Indian boy named Pi, a zookeeper's son, who finds himself in the company of a hyena, zebra, orangutan, and a Bengal tiger after a shipwreck sets them adrift in the Pacific Ocean. The central relationship in the film is between Pi and the 450-pound Bengal tiger named Richard Parker. Themes of faith, love, and loss are explored.
3D Technology
Edit
Lee initially struggled with whether or not to employ 3D technology for the film, citing it's cost and a fear of it being gimmicky. But he ultimately decided the advanced technology could bring a painterly, poetic quality to the look. While directing 17-year-old actor Suraj Sharma, the director believed he was giving appropriate instructions until he watched the footage in 3-D. "I'd have to go back to him and bring his performance down because it just enhanced it so much more. It's like a new film language," Lee said, describing his learning curve as "humongous."[1]
He employed Brian Gardner as Stereoscopic Supervisor, stereoscopic technology being hailed as a cinematic storytelling tool to create an emotional undercurrent to the film. At the exhibitor's conference known as Cinemacon, before previewing 10 minutes of footage, Fox Co-Chairman Tom Rothman exclaimed that Lee's accomplishment was on par with the technological breakthrough James Cameron's "Titanic." [2]
Suraj Sharma as "Pi" Patel
Shravanthi Sainath as Pi's Girlfriend
Tabu as Pi's mother
Adil Hussain as Pi's father
Irrfan Khan as the adult "Pi" Patel
Gerard Depardieu as The Chef
Rafe Spall as Yann Martel/The Writer
Life of Pi is scheduled to be released on December 21, 2012. It was originally scheduled to be released on December 14, 2012, but when The Hobbit: An Unexpected Journey was announced for the same release date, Life of Pi was postponed a week.
Directed by Ang Lee, 'Life Of Pi' is an adventurous dramatic movie starring Suraj Sharma, Irrfan Khan, Tabu, Adil Hussain, Rafe Spall, and others in their respective roles. It is based on the 2001 novel of the same name written by Yann Martel. The film had pretty good expectations, because of its impressive promos, promising star-cast, hordes of praises from various film festivals, and much more. However the film had effectively fulfilled the expectations of the moviegoers and deserves the every bit of praises.
Rating :4/5
'Life Of Pi' is a masterpiece made by the maestro Ang Lee. Right from the gripping story and courageous journey of a teenager boy and a hungry tiger, to brilliant direction, miraculous visual effects and outstanding performances, it deserves to be watched number of times. 'Life Of Pi' is not a film, it's a 'Beautiful Experience'![3]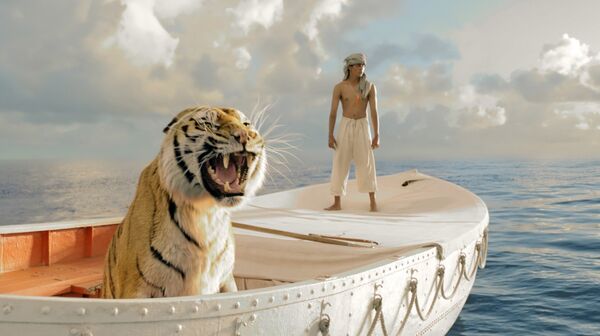 | | |
| --- | --- |
| | |
| Teaser Trailer | Trailer "O" |
Featurettes
Edit
It took Ang Lee 3,000 auditions to find the 17-year-old Sharma.[4]
Ang Lee replaced Tobey Maguire with Rafe Spall in the role of "The Writer" because he thought that Maguire's fame was distracting from the story, and he wanted to keep the cast more international.
References
Edit