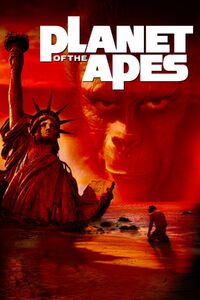 Somewhere in the Universe, there must be something better than man!
Directed By
Franklin J. Schaffner
Produced By
Arthur P. Jacobs
Written By
Michael Wilson and Rod Serling Based on the novel by Pierre Boulle
Cinematography
Leon Shamroy
Release Date
April 3, 1968
Filming Location
California, Arizona and Utah
Rating


Planet of the Apes is a 1968 American science fiction film directed by Franklin J. Schaffner, based on the 1963 French novel La Planète des singes by Pierre Boulle. The film stars Charlton Heston, Roddy McDowall, Maurice Evans, Kim Hunter and Linda Harrison. It was the first in a series of five films made between 1968 and 1973, all produced by Arthur P. Jacobs and released by 20th Century Fox. The series was followed by a remake in 2001 and a reboot in 2011.
The film tells the story of an astronaut crew who crash-land on a strange planet in the distant future. Although the planet appears desolate at first, the surviving crew members stumble upon a society in which apes have evolved into creatures with human-like intelligence and speech. The apes have assumed the role of the dominant species and humans are mute creatures wearing animal skins.
The script was originally written by Rod Serling but had many rewrites before eventually being made. Directors J. Lee Thompson and Blake Edwards were approached, but the film's producer Arthur P. Jacobs, upon the advice of Charlton Heston, chose Franklin J. Schaffner to direct the film. Schaffner's changes included creating a more primitive ape society, instead of the more expensive idea of having futuristic buildings and advanced technology. Filming took place between May–August 1967, mostly in California and Arizona, with the opening scene shot at Lake Powell, Utah. The film's budget was approximately $5,800,000.
The film was released on February 8, 1968, in the United States and was a commercial success, gaining $32,589,624 at the international box office. The film was groundbreaking for its prosthetic makeup techniques by artist John Chambers, and was well received by critics and audiences, launching a film franchise, including four sequels, as well as a short-lived television show, animated series, comic books, various merchandising, and eventually a remake in 2001 and a reboot in 2011. In particular, Roddy McDowall had a long-running relationship with the Apes series, appearing in four of the original five films (absent, apart from a brief voiceover, from the second film of the series, Beneath the Planet of the Apes, in which he was replaced by David Watson in the role of Cornelius), and also in the television series.
In 2001, Planet of the Apes was selected for preservation in the United States National Film Registry by the Library of Congress as being "culturally, historically, or aesthetically significant".
This plot section is in need of expanding, you can help.

Taylor and two other astronauts come out of deep hibernation to find that their ship has crashed. Escaping with little more than clothes they find that they have landed on a planet where men are pre-lingual and uncivilized while apes have learned speech and technology. Taylor is captured and taken to the city of the apes after damaging his throat so that he is silent and cannot communicate with the apes.
Ad blocker interference detected!
Wikia is a free-to-use site that makes money from advertising. We have a modified experience for viewers using ad blockers

Wikia is not accessible if you've made further modifications. Remove the custom ad blocker rule(s) and the page will load as expected.