Directed By
Gabriele Muccino
Produced By
Heidi Jo Markel, Kevin Misher, Jonathan Mostow, Alan Siegel, John Thompson
Cast
Gerard Butler, Jessica Biel, Uma Thurman, Catherine Zeta-Jones, Dennis Quaid
Distributed By
FilmDistrict
Release Date
December 7, 2012
Rating


Playing for Keeps, formerly titled Playing the Field is a romantic comedy film directed by Gabriele Muccino. The film is set to be released on December 7, 2012 in the United States and Canada by Open Road Films & FilmDistrict.
A charming, down-on-his luck former soccer star who returns home to put his life back together. Looking for a way to rebuild his relationship with his son, he gets roped into coaching the boy's soccer team. But his attempts to finally become an "adult" are met with hilarious challenges from the attractive "soccer moms" who pursue him at every turn.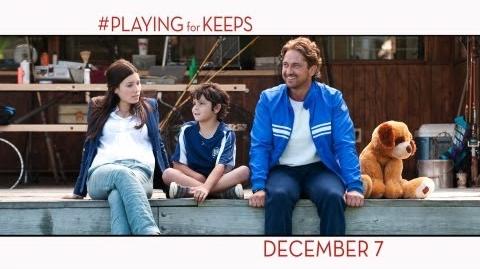 Production Stills
Edit
Related Links
Edit
Ad blocker interference detected!
Wikia is a free-to-use site that makes money from advertising. We have a modified experience for viewers using ad blockers

Wikia is not accessible if you've made further modifications. Remove the custom ad blocker rule(s) and the page will load as expected.