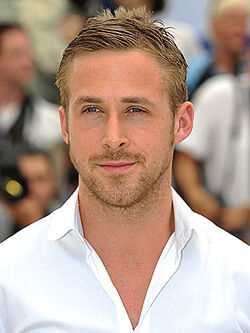 Ryan Thomas Gosling (November 12, 1980) is a Canadian actor and musician from London, Ontario. His big break came as a 13 year old when he was a star on Disney's Mickey Mouse Club. He has since acted in many films and has developed an obsessive cult following from women fans, who were outraged when he lost out to Bradley Cooper for People Magazine's 2011 Sexiest Man Alive.
Ryan Gosling was nominated, but did not win, for his role as a drug-addict high school teacher in the 2006 films Half Nelson
Oscar Nominations
Ad blocker interference detected!
Wikia is a free-to-use site that makes money from advertising. We have a modified experience for viewers using ad blockers

Wikia is not accessible if you've made further modifications. Remove the custom ad blocker rule(s) and the page will load as expected.