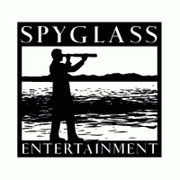 Spyglass Entertainment is an American film and television production company, Co-founded by Gary Barber and Roger Birnbaum in 1999, where they serve as Co-CEOs. It is currently owned by Cerberus Capital Management. Jonathan Glickman serves the current President of Production. Internationally, Warner Bros has released most films made by Spyglass (with exceptions). Spyglass Entertainment's logo is a man standing in front of an ocean scene looking through a spyglass. The company was previously known as Pathe Pictures
Jeffrey Chernov was once a production executive at Spyglass Entertainment.
Filmography
Edit
With Universal Studios
Edit
With Sony Pictures Entertainment
Edit
With Columbia Pictures
Edit
The Legend of Zorro (2005)
With TriStar Pictures
Edit
With TimeWarner
Edit
With Warner Bros.
Edit
Ad blocker interference detected!
Wikia is a free-to-use site that makes money from advertising. We have a modified experience for viewers using ad blockers

Wikia is not accessible if you've made further modifications. Remove the custom ad blocker rule(s) and the page will load as expected.