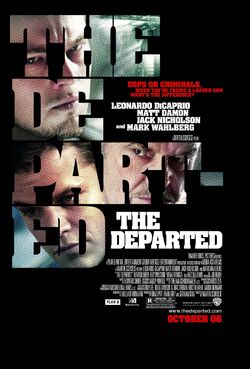 Cops or criminals. When you're facing a loaded gun, what's the difference?
Written By
William Monahan
Cast
Matt Damon
Leonardo DiCaprio
Jack Nicholson
Mark Wahlberg
Martin Sheen
Alec Baldwin

The Departed is a 2006 film directed by Martin Scorsese and starring Matt Damon, Leonardo DiCaprio, Jack Nicholson, Alec Baldwin, Martin Sheen, and Mark Wahlberg. The film won Best Picture at the 78th Annual Academy Awards. It was based on the Hong Kong film Infernal Affairs.
It won several awards, including Oscars at the 79th Academy Awards; Best Picture, Best Director (Scorsese), Best Adapted Screenplay and Best Film Editing. The film takes place in Boston, Massachusetts, where Irish Mob boss Francis "Frank" Costello plants Colin Sullivan as an informant within the Massachusetts State Police. Simultaneously, the police assign undercover cop William "Billy" Costigan to infiltrate Costello's crew. When both sides realize the situation, each man attempts to discover the other's true identity before his own cover is blown.
Ad blocker interference detected!
Wikia is a free-to-use site that makes money from advertising. We have a modified experience for viewers using ad blockers

Wikia is not accessible if you've made further modifications. Remove the custom ad blocker rule(s) and the page will load as expected.