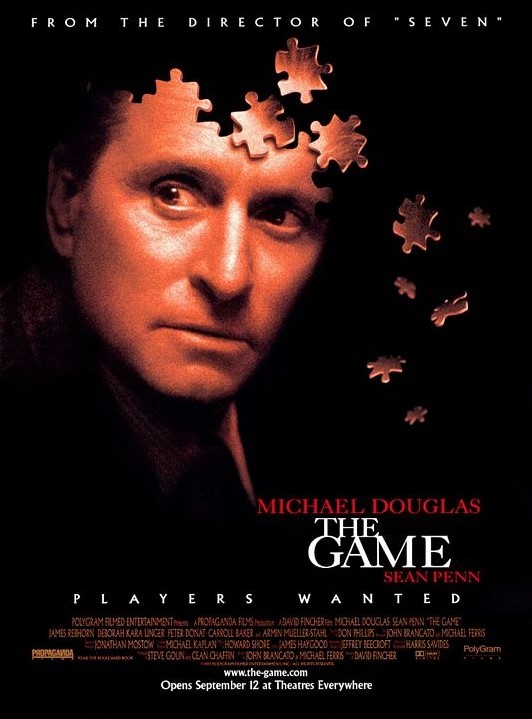 Players wanted.
Produced By
Cean Chaffin
Steve Golin
Distributed By
Polygram Filmed Entertainment
Release Date
September 12, 1997
Runtime
2 Hour And 8 Minutes
Rating
R (U.S.A.)
15 (U.K.)
AA (Ontario, Canada)
M (Australia) (DVD Rating)
Budget
$50,000,000(estimated)
Gross
Domestic:
$48,265,581
Worldwide:
$109,365,581

The Game is a 1997 American film directed by David Fincher, written by John Brancato and Michael Ferris, and produced by Ceán Chaffin and Steve Golin. It is distributed by Polygram Filmed Entertainment and released on September 12, 1997 in theaters.
Plot Synopsis
Edit
Nicholas Van Orton (Michael Douglas) is a successful investment banker who is about to celebrate his 48th birthday which is the age at which his father committed suicide. His brother, Conrad (Sean Penn), shows up unexpectedly with an unusual gift. He gives Nicholas a card for Consumer Recreation Services. After he visits the CSR offices strange things begin to happen to him. Is it just a game or something more?
External links
Edit
Ad blocker interference detected!
Wikia is a free-to-use site that makes money from advertising. We have a modified experience for viewers using ad blockers

Wikia is not accessible if you've made further modifications. Remove the custom ad blocker rule(s) and the page will load as expected.