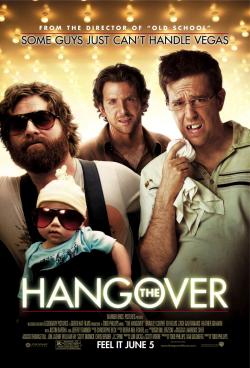 Two days before his wedding, Doug Billings (Justin Bartha) drives to Las Vegas with his best buddies Phil Wenneck and Stuart Price (Bradley Cooper and Ed Helms) and his future brother-in-law Alan Garner (Zach Galifianakis), for a blow-out bachelor party they vow they'll never forget.
But when the three groomsmen wake up the next morning with pounding headaches, they can't remember a thing. Their luxury hotel suite is beyond trashed and the groom is nowhere to be found.
With no clue about what happened and little time to spare, the trio must attempt to retrace their bad decisions from the night before in order to figure out where things went wrong in the hopes of finding Doug and getting him back to L.A. in time for his wedding.
But the more they begin to uncover, the more they realize just how much trouble they're really in.
Production
Edit
Warner Bros. Pictures presents, in association with Legendary Pictures, a Green Hat Films Production of a Todd Phillips Movie: The Hangover, starring Bradley Cooper (He's Just Not That Into You), Ed Helms (The Office), Zach Galifianakis (What Happens in Vegas), Heather Graham (Baby on Board), Justin Bartha (the National Treasure films) and Jeffrey Tambor (Arrested Development).
The film is directed by Todd Phillips (Old School) from a screenplay by Jon Lucas & Scott Moore (Four Christmases). Todd Phillips and Dan Goldberg (Old School) produce, with Thomas Tull (Watchmen), Jon Jashni (Observe and Report), William Fay (Observe and Report), Scott Budnick (School for Scoundrels), Chris Bender (American Pie, TV's Kyle XY) and J.C. Spink (Kyle XY) serving as executive producers.
The creative team includes director of photography Lawrence Sher (Dan in Real Life), production designer Bill Brzeski (The Bucket List), and editor Debra Neil-Fisher (Baby Mama). Music is by Christophe Beck (What Happens in Vegas). Soundtrack album is available on New Line Records.
Ad blocker interference detected!
Wikia is a free-to-use site that makes money from advertising. We have a modified experience for viewers using ad blockers

Wikia is not accessible if you've made further modifications. Remove the custom ad blocker rule(s) and the page will load as expected.