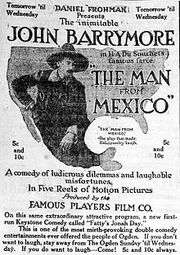 The Man from Mexico is a 1914 silent film starring John Barrymore and directed by Thomas N. Heffron. The film's negatives are all lost, making this film in its entirety impossible to watch. The film was rereleased in 1919 as part of the "Success Series", and was remade in 1926 as Let's Get Married.
Unknown.
John Barrymore - Fitzhugh
Wellington Playter - Prison Warden
Harold Lockwood - Danton.
Ad blocker interference detected!
Wikia is a free-to-use site that makes money from advertising. We have a modified experience for viewers using ad blockers

Wikia is not accessible if you've made further modifications. Remove the custom ad blocker rule(s) and the page will load as expected.