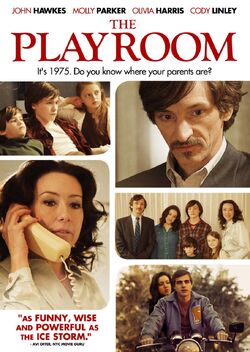 Time to put away childish things.
Produced By
Stephen Dyer, Angie Meyer
Music By
Bruce Richardson
Studio
One Mind Productions, Circle of Confusion, Ten96 Films
Distributed By
Freestyle Digital Media
Release Date
February 8, 2013
Rating

The Playroom is director, Julie Dyer's second film which received critical praise at the Tribeca Film Festival. It stars John Hawkes and Molly Parker and set for a February 2013 release.
Set in the suburbs during the 1970s, the story unfolds like a dream wrapped around a family drama, one in which all members of the Cantwell family struggle to find their way in a rapidly changing world. Maggie is a vulnerable yet tempestuous teenager who acts as big sister and surrogate mother to her three younger siblings. Upstairs in the attic she tells them fantastical stories, but only to mask what is happening downstairs. As her hard-drinking parents, Martin and Donna, entertain guests, Maggie grapples with their flawed choices and is thrust into a world she might not be ready for.
Related Links
Edit
Ad blocker interference detected!
Wikia is a free-to-use site that makes money from advertising. We have a modified experience for viewers using ad blockers

Wikia is not accessible if you've made further modifications. Remove the custom ad blocker rule(s) and the page will load as expected.