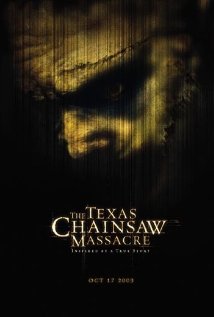 Inspired by a True Story
Runtime
1 Hour And 38 Minutes
The Texas Chainsaw Massacre is a horror film that is a remake to the 1974 film, The Texas Chain Saw Massacre. It is directed by Marcus Nispel, written by Scott Kosar, based on the screenplay by Tobe Hooper and Kim Henkel, and produced by Michael Bay and Mike Fleiss. It is distibuted by New Line Cinema and was released on October 17, 2003
"Coming soon".
Spoiler warning: The following contains plot details about
the entire movie.
Hitchhiker: Kills herself by shooting herself through the mouth
Kemper: Hit on the back of the head with a sledgehammer by Leatherface
Pepper: Cut in half by Leatherface with a chainsaw.
Andy: After getting his leg cut off and being hung on a hook by Leatherface, Erin encounters him, and he tells her to kill him. Reluctantly, Erin then picks up a knife and stabs him through the stomach.
Morgan: Leatherface hangs him by his handcuffs on a chandelier, where he uses the chainsaw to cut him up the middle.
Sheriff Hoyt: Erin runs him over with his own police car three times.
---

Spoilers end here.

---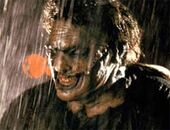 The film is banned in Ukraine.
A deleted subplot detailed Erin being pregnant, explaining why she didn't "drink the water" or "smoke the weed" in Mexico. According to DVD commentary, an earlier idea for the film involved Erin being in the advanced stages of her pregnancy throughout the film. At the climax, she hides in the slaughterhouse when she suddenly goes into labor. The sound of the baby crying alerts Leatherface to her presence, and the film would have ended on a much more downbeat note. Ultimately, this idea was rejected, partly because the producers didn't want Jessica Biel to spend most of the film in a pregnant suit.
Katie Holmes was considered for the part of Erin.
Daniel Pearl, the cinematographer for the original film, reprised the position for this movie. Also reprising his role from the original film is narrator John Larroquette.
Florida hardcore band Remembering Never use the photo camera click sound at the beginning of their song "Incisions".
The film grossed $80.6 million domestically.
Tobe Hooper was involved in making the film and was very enthusiastic with the remake.[1]
The song Sweet Home Alabama is played during the opening as the characters are going to a Lynyrd Skynyrd concert. The film takes place in 1973. The song Sweet Home Alabama appeared on Skynyrd's sophomore album, Second Helping, released in 1974.
External links
Edit