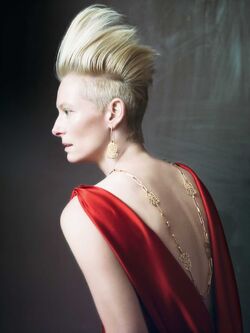 Katherine Mathilda "Tilda" Swinton (5 November 1960) is a British actress from London, known for roles in both art-house/independent films and mainstream movies. Born to a Scottish father and an Australian mother, Tilda Swinton comes from an ancient lineage of Anglo-Scots who can be traced to the high Middle Ages. She is a graduate of Cambridge University and currently lives in Nairn, Scotland with her partner and two children.
Oscar Nominations
Edit
2007 - Michael Clayton - Winner of Best Supporting Actress

2005- The Chronicles of Narnia: the Lion, the Witch, and the Wardrobe
Ad blocker interference detected!
Wikia is a free-to-use site that makes money from advertising. We have a modified experience for viewers using ad blockers

Wikia is not accessible if you've made further modifications. Remove the custom ad blocker rule(s) and the page will load as expected.