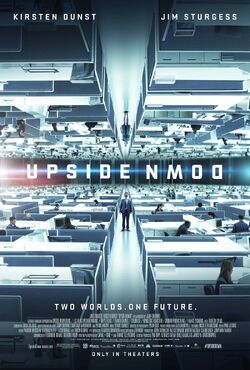 Two worlds. One future.
Distributed By
Millennium Entertainment
Release Date
March 15, 2013
Rating

Upside Down is a 2013 French-Canadian romantic science fiction film written and directed by Juan Diego Solanas. Starring Jim Sturgess and Kirsten Dunst.
Adam is a seemingly ordinary guy in a very extraordinary universe. He lives humbly trying to make ends meet, but his romantic spirit holds on to the memory of a girl he loved once upon a time from another world, an inverted affluent world with its own gravity, directly above but beyond reach... a girl named Eden. Their childhood flirtation becomes an impossible love. But when he catches a glimpse of grownup Eden on television, nothing will get in the way of getting her back... Not even the law or science!
Related Links
Edit
Ad blocker interference detected!
Wikia is a free-to-use site that makes money from advertising. We have a modified experience for viewers using ad blockers

Wikia is not accessible if you've made further modifications. Remove the custom ad blocker rule(s) and the page will load as expected.