Comments

3
Interview with the Founder of Muppet Wiki

Are you a fan of the Muppets?
In 2011, the popular puppet franchise made a serious comeback with a hit movie: The Muppets. Life-long fan Danny Horn, the passionate founder of Muppet Wiki, agreed to do an interview with us for Wikia's Road to Red Carpet, so read all about it here!
1. Did the latest Muppets film live up to your high expectations?
Absolutely! It's the best thing they've done in years. The job of the movie was to bring the Muppets back into our lives, and remind us how funny and crazy they are. Do a search on Twitter for Muppets my childhood, and you'll see how successful they've been. It worked!
2. What did you think about the casting choice for the Muppets?
The movie was really Jason Segel's passion project. After Forgetting Sarah Marshall, he had the opportunity to pitch any movie that he wanted to make -- and what he wanted was a big, silly musical about bringing The Muppet Show back. It's been an awesome year for Muppet fans, and it's really thanks to him. Also, the movie had a great balance -- the story starts with Jason Segel, Amy Adams and Walter, and introduces the main Muppet cast as it goes along. By the middle of the film, the humans and the Muppets all have their own storylines. There's a lot going on!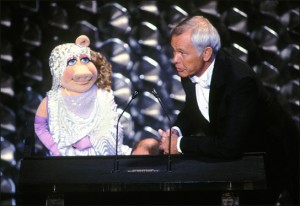 3. How excited are you that the Muppets have been nominated for an Oscar?
Well, obviously I'm disappointed that Miss Piggy was once again overlooked for Best Actress. (This is another example of a longstanding anti-pig bias.) Piggy was more glamorous than Marilyn, and she had more costume changes than Albert Nobbs. Meryl Streep might be The Iron Lady, but did she get Jack Black in a headlock and stuff him into the trunk of a car? Actually, she might have.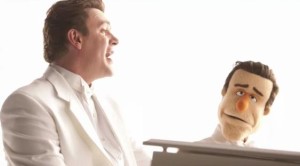 4. What is your favorite song from the latest Muppets soundtrack?
The nominated song, "Man or Muppet", is a perfect musical number -- it expresses how the characters are feeling, it moves the plot forward, and it's hilarious. It's going to win the Oscar. For my personal favorite, though, I have to say it's "Forget You", performed by Camilla the Chicken. Unforgettable!
What do you think about these hilarious tidbits? Who knew the Oscars had an anti-pig bias? Be sure to check out our countdown and join us for a live chat party and live tweeting tomorrow at The Academy Awards!