Boyz In The Sink Sing Yourself Silly
is an upcoming feature film from the animated video series VeggieTales with the fictional band Boyz in the Sink.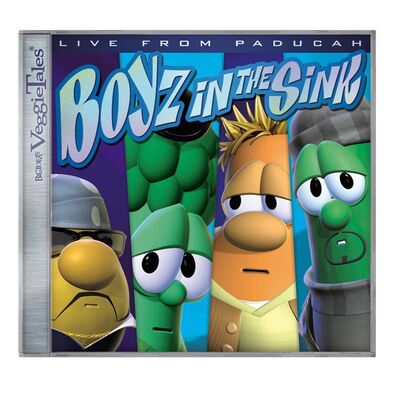 VeggieTales Theme Song 
We Found Love
Tonight Tonight
Party Rock Anthem
Bellybutton
A Mess Down in Egypt
Bubble Rap
Bye Bye Bye
Halo
You Put this Love in My Heart (From Bob and Larry's Worship Songs)
We are Young
Stereo Eardrums (parody of "Stereo Hearts")
Set Fire to the Rain
What Makes You Silly (parody of "What Makes You Beautiful")
Somebody that I Used to Know
Dynamite
Silliness (parody of "Stronger")
Part of Me
Don't Call Me Maybe (parody of "Call Me Maybe")
Starships
Payphone
Boyz In The Sink Remix Melody (Played under the credits)
Rockin' Snoodle (parody of Rockin' Robin)
Sweet home Bumblyburg (Parody of Sweet home Alabama)
I'm a believer
Walkin' on sunshine
We got the beat
What a wonderful world
I Love It
We Can Stop (parody of "We Can't Stop")
Just Give Me A Reason
Started From The Bottom
THATpower
C'mon
Sweet Nothing
Scream and Shout
Mr. Movin' On (parody of "Miss Movin' On")
Forever
I Knew You Were Trouble
Some Nights
Come and Get It
Characters:
Edit
Ad blocker interference detected!
Wikia is a free-to-use site that makes money from advertising. We have a modified experience for viewers using ad blockers

Wikia is not accessible if you've made further modifications. Remove the custom ad blocker rule(s) and the page will load as expected.