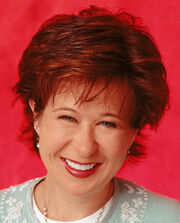 Martha Maria Yeardley Smith
(/ˈjɑrdli/; born July 3, 1964) is an American actress and voice actor who is best known for providing the voice of Lisa Simpson on the animated television series The Simpsons. Some of her film credits include
The Legend of Billie Jean
,
Maximum Overdrive
and
As Good as It Gets
.
Smith was born in Paris, France, and raised in Washington, D.C., USA. She is the daughter (and namesake) of Joseph Yeardley "Joe" Smith (May 10, 1931–January 17, 2006), The Washington Post's first official obituary editor (1977–1988), who continued working full-time for The Post until 1996.
In addition to performing as the voice of Lisa Simpson and other occasional characters on The Simpsons, Smith also appeared on the sitcoms Herman's Head and Dharma and Greg and guest-starred on Showtime's Dead Like Me, the Disney Channel's Phil of the Future as well as a guest appearance on Teen Angel, and the "Mathnet" segment of the Children's Television Workshop show Square One.
Yeardley admitted on The Jane Pauley Show that she had struggled with bulimia for 25 years. Coincidentally, her character Lisa Simpson suffered through an eating disorder in the episode "Sleeping with the Enemy". She is currently performing in a one-woman show called More where she exposes her eating disorder. Yeardley has been binge-purge free for three years as of February 18, 2006.
A twist of trivia regarding her work on The Simpsons was that she auditioned for the role of Bart Simpson, while Nancy Cartwright auditioned for the part of Lisa. However the producers felt that Smith would be better suited for Lisa's voice, while Cartwright was given the role of Bart.
Selected filmography
Edit
External links
Edit
Ad blocker interference detected!
Wikia is a free-to-use site that makes money from advertising. We have a modified experience for viewers using ad blockers

Wikia is not accessible if you've made further modifications. Remove the custom ad blocker rule(s) and the page will load as expected.