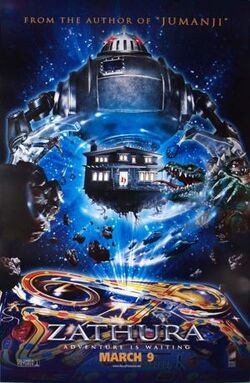 Adventure is Waiting
Produced By
Michael De Luca
Cinematography
Guillermo Navarro
Distributed By
Columbia Pictures
Release Date
November 11, 2005
Zathura: A Space Adventure is a 2005 science-fiction movie based upon a 2002 Science-fiction novel by Chris Van Allsburg.
Brothers Walter and Danny can never seem to get along with each other, or with their older teen-aged sister, Lisa. While staying at their divorced father's home while he is away at work and Lisa is asleep, the boys discover an old clockwork-driven space-themed board game called "Zathura" in the basement. The two begin to play the game, the goal to be the first to reach the final space named Zathura. During each turn, the game provides a card with instructions, but the two quickly realize the cards affect reality. They soon discover the house is floating on a small rock in outer space. Meanwhile, Lisa looks out the window, and believing it is merely dark, goes to shower for her date. When the boys try to warn Lisa about what has happened, they find she is frozen in cryonic sleep as a result of one of the cards. The brother realize that the only way to end the game and hopefully return to Earth is to reach the end space of Zathura.
Ad blocker interference detected!
Wikia is a free-to-use site that makes money from advertising. We have a modified experience for viewers using ad blockers

Wikia is not accessible if you've made further modifications. Remove the custom ad blocker rule(s) and the page will load as expected.